Have you ever found yourself in a tizzy because you don't know, whether you are picking the perfect precious metal for the perfect engagement ring or beautiful bracelet for your mother's birthday? Well there is no need to panic, as Rocks unfold all the information you need about white gold.
At Rocks we believe knowing and understanding the qualities of each of the different white metals ensures the jewellery you select will offer a lifetime of joy and satisfaction.
White gold has become extremely popular in recent years, however deciding on whether its right for you and selecting the right carat weight can be difficult. So we have decided to break down all the information in order for you to make an informed purchase that you will be satisfied with for many years to come.
White gold gets its colour by mixing yellow gold with alloys like nickel, zinc, and palladium. Due to the variety of the alloys used, white gold colours will vary. Sometimes, white gold is covered with rhodium plating to create a bright, pure white finish.
White gold is available up to 21 karat.  Eighteen-karat gold is 75% pure, 14k is 58.5% pure, and 10k 41.7% pure.
White gold is a more affordable and durable than alternative precious white metals and does not tarnish like silver. However, over time some rhodium-plated white gold can yellow and may require to be replated with rhodium.  18 karat gold generally holds up to everyday wear and tear better than 9 karat.
White Gold wedding rings use gold alloyed with a higher proportion of other metals, to produce a beautiful polish and shine. White metals provide an excellent setting for diamonds, so choose white gold for your diamond ring if you would like platinum but perhaps want something more traditional.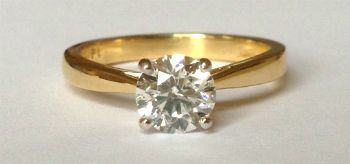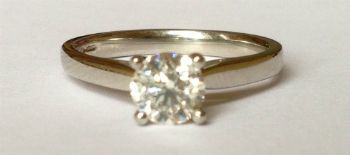 Keep an eye out for our next blog…it's all about Platinum!
And for that all important white gold engagement ring or gifts take a look at our white gold and diamond engagement collection.
Because Love Rocks!