At Rocks we believe every proposal should be special and unique to each couple!
We know getting ready to pop the all important question can become completely overwhelming, so we have put together some perfect proposal ideas to suit your lucky ladies personality!


Romantic: If your fiancé to be is a true romantic at heart what would be more perfect than a romantic evening stroll or a horse drawn carriage ride around the park, stopping at the band stand that is lit with candles, rose petals scattered and the champagne waiting on ice for you both. Once she has gotten over the shock, tell her exactly what she means to you and how much you love her and want to spend the rest of your life together and ask her to be your future wife. If you want to go completely romantic and over the top have some music playing or a slide show of your life together so far.

Quirky: For the lady who likes things a little out of the ordinary but still romantic then why should her proposal be any different. When you are both out doing of shopping make an excuse that you have to collect a surprise for her and that you will meet her at a certain place in 20 minutes.
This will give you time to change and get things set up properly. While she is waiting for you, organise a flash mob to start dancing, let her see you join in with them and then at the end of the routine get down on one knee and ask your lucky lady to marry you.
If this is not quirky enough for you why not get strangers to walk up to her one at a time with a single red rose with a note saying a word that reminds you of her, for example loveable, funny, kind, ice-cream or shoes…it could be anything. And with the twelfth red rose you could be down on one knee and propose to her.

Crafty: If the love of your life is always making something, why not take a leaf out of her book and get some inspiration for the perfect proposal.  You could put a scrap book together of happy memories from your relationship and on the last page you could have a picture of you down in one knee with the ring and when she looks over at you, be down on your knee with the ring wearing the same thing as you were in the photo.
Another craft orientated proposal would be to gather all your friends and family together and record each of them individually, telling you what they like best about you both as a couple. Arrange for this to be done in a familiar setting with each person pretending to hold something in their hand and passing it on to another person, then the last person passes it to you and you say how special you are as a couple and everything you love about her and when she looks at you be down on one knee and have the ring in your hand like you did the video and open your hands to revel the perfect engagement ring and ask her to marry you.


A family orientated proposal: For a more family orientated marriage proposal, wait to propose to your fiancé until all her family and friends are in your company, tell her you have forgotten something and leave the room.  When returning back in to the room give her a large gift wrapped box, with a number of smaller gift wrapped boxes inside, until she get to the last box which is the ring box. At that point get down on one knee and ask her to spend the rest of her life with you.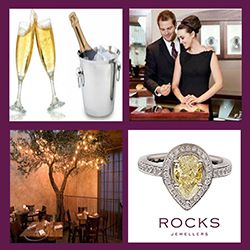 A more private and reserved proposal: If your love is not a fan of the big public proposals, why not opt for something private yet as elaborate and romantic. Tell her that you are bringing her out to dinner to a fancy restaurant for a romantic dinner. Ok so you have two options at this point.
You could arrange for a private room in her favourite restaurant and have it romantically decorated, and have the champagne on ice. Once you are settled at the table you could begin by telling her how wonderful  and thoughtful she is and that is why you want to spend the rest of your life together, then get down on one knee and ask her to marry you and present her with the perfect engagement ring.
The other option is to arrange with the jewellers (which we would be more than happy to arrange)  for a private ring selection after hours or have a room set up with flowers and champagne for your lucky lady to select her own ring in private. To keep it a surprise, tell her to close her eyes that you have a surprise for her, and tell her to open them once you are in the private ring selection room. This way you won't have the stress of having to pick the ring.


Keep an eye out for our next blog!
 And for that all important engagement ring take a look Rocks Forever Collection